Cabbage Diet Soup is a very nutritional and tasty soup which we can easily prepare within a short time period. Cabbage is a very suitable people who try to reduce the weight of their bodies. It means cabbage provides full support to reduce the fat and maintain a healthy life.
Normally this cabbage diet soup is made including carrot, bell pepper, plenty of seasoning and tomato also. This healthy vegetable soup packs in lots of flavours and is ultra-satisfying. If you want to add extra taste you can add any vegetable you like. AS well as you can add avocado and cheese, it will be delicious food.
Ingredients
2 tablespoons of extra-virgin olive oil
2 medium carrots, chopped
2 cloves garlic, minced
1 medium red bell pepper, chopped
1 medium onion, chopped
2 stalks celery, chopped
½ teaspoon of ground pepper
1 ½ teaspoon of Italian seasoning
¼ teaspoon of salt
8 cups of low-sodium vegetable broth
1 medium head green cabbage, halved and sliced
1 large tomato, chopped
2 teaspoons of white wine vinegar
How to make
Firstly heat the oil in a large pot over medium heat. Then put it carrot, onion, and celery. Then cook them until the vegetables became to soften about 8 minutes. Now add garlic, bell pepper, pepper, Italian seasoning, salt and cook it for 2 minutes.
Add cabbage, broth, and tomato and increase the heat to medium-high and bring to a boil. Then reduce heat to maintain the simmer, partially cover and cook until all the vegetables are tender about 20 minutes more. Remove from heat and stir in vinegar.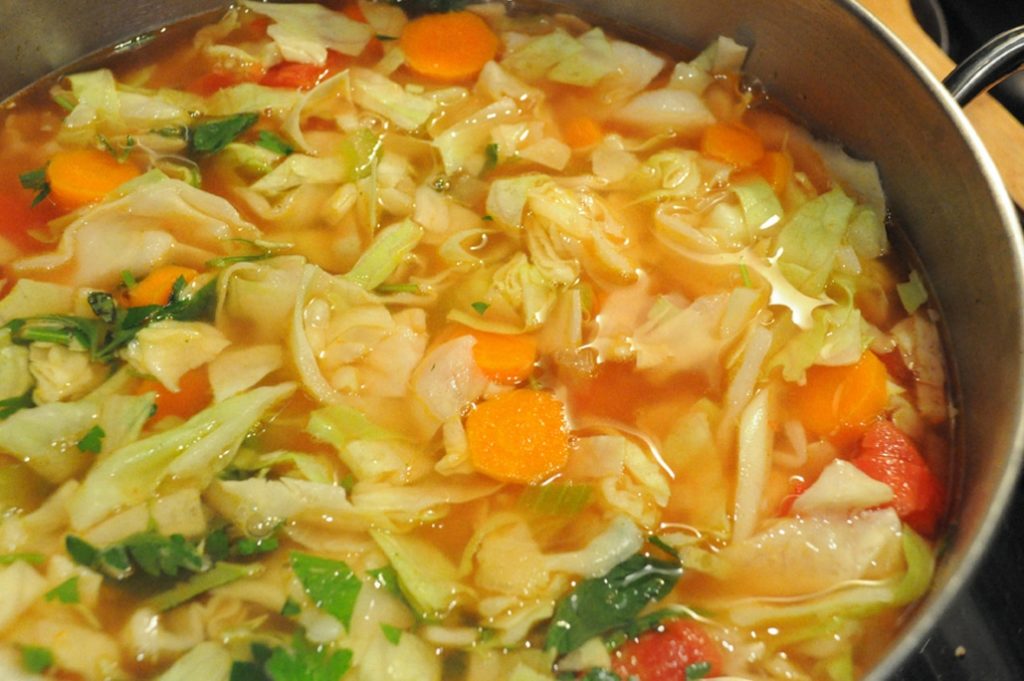 Nutrition facts
| | |
| --- | --- |
| Nutritional factor | Amount of |
| calories | 133 |
| total fat | 5.2 g |
| saturated fat | 0.7g |
| sodium | 451mg |
| potassium | 504mg |
| carbohydrates | 19.8g |
| fiber | 7g |
| sugar | 11g |
| protein | 3g |
| vitamin A | 4480IU |
| vitamin c | 88mg |
| folate | 91mcg |
| calcium | 111mg |
| iron | 2mg |
| magnesium | 30mg |
Proponents of the diet say that it can support you lose up 4.5 kg in a single week, but many health experts warn that the diet is unhealthy and its results unsustainable. So it is more suitable to eat daily if you are a very fat person. If you are not fat, you should not add this soup for your daily food menu.